Peak Season Picks
Honey Mango
What is a honey mango?
The honey mango is a small oblong shaped mango with a gold-blushed yellow skin that wrinkles when it's ripe. Weighing between 6-10 ounces, the honey mango is also known as the Champagne mango due to its sweetness and velvety texture.
What are honey mangoes used for?
Peel your mango before you eat it! Slice and dice the mango and eat it as is, or sprinkle with a bit of chile-lime salt. Add honey mangoes to salads, create smoothies, or make a tangy mango salsa. Try your honey mango grilled with a drizzle of honey and a lime-mint vinaigrette.
When is honey mango in season?
Peak season for Honey mangos is March to July. Look for a mango with a bit of softness, when squeezed, similar to a ripe avocado. A ripe mango will have a fresh ripe aroma when you smell it.
What is the difference between honey mango and regular mango?
With flavors ranging from sweet to spicy, there are 6 major varieties of Mangoes available in the U.S. Honey mangoes have the smoothest texture of mangoes and are not as fibrous as other varieties. It is typically smaller than other varieties.
Pair it with these!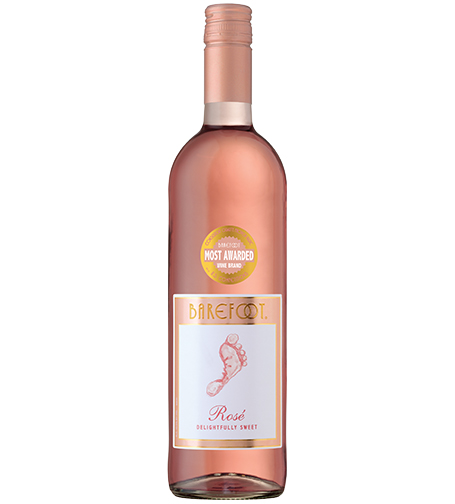 Barefoot Rose
This fruit forward Rose pairs perfectly with the inherent sweetness of the mango and cantaloupe while contrasting nicely with the salty Burrata.
Burrata Salad with Fresh Mango and Cantaloupe
Ingredients
For the salad:
9 ounces of baby arugula, about 4 loose handfuls
2 (8-ounce) balls of burrata
2 large ripe honey mangoes, peeled, pitted and sliced or diced
1 cup diced cantaloupe
12 (2-inch diameter) heirloom tomatoes, halved lengthwise
Olive oil for drizzling
Coarse salt and freshly ground black pepper to taste
16 fresh basil leaves, julienned
For the dressing:
2 tablespoons guava paste
1 tablespoon pomegranate juice
1 tablespoon freshly-squeezed lime juice
1 teaspoon Dijon mustard
Coarse salt and freshly ground black pepper to taste
1/4 cup extra-virgin olive oil
Instructions
For the dressing, combine all the ingredients in the work bowl of a blender or food processor. Pulse until smooth. Adjusting ingredients for desired consistency. Set aside.
For the salad, divide arugula among serving plates. Cut each ball of cheese in half crosswise and place the halves, cut side down, in the center of the arugula. Combine the mangoes, tomatoes and cantaloupe and distribute around the Burrata.
Drizzle the salad generously with olive oil and guava vinaigrette. Season with salt and pepper. Top with basil strands and serve.